Memorial Bibles in honor of Pastor Richard Gatlin
We have ordered 55 new pew bibles in memory of our retired pastor and friend, Richard Gatlin, who is now in the loving arms of his savior. The cost of each bible is about $13 after tax and shipping.
If you would like to make a donation toward this memorial simply mark your gift "bibles".
PCC Cruisin' Cradle in July
For the month of July we will be hosting the Pregnancy Care Center of the North Coast Cruisin' Cradle for a diaper drive! All month long you are invited to bring in donations of diapers, wipes and other baby products.
Midweek Bible Study – suspended
Midweek Bible Study returning July 15th at 7:00 p.m.
Save the date and join us for our current Ray Vander Laan series "Death and Resurrection of the Messiah" when we resume on July 15th.
Tuesdays
Tuesday Sisters at 10:00 a.m.
Ladies, you're invited to join us for our new DVD series,
"Not a Fan" by Kyle Idleman. This bible study will be meeting in the fellowship hall.
"Not a Fan
calls you to consider the demands and rewards of being a true disciple. With frankness sprinkled with humor, Idleman invites you to live the way Jesus lived, love the way he loved, pray the way he prayed, and never give up living for the One who gave his all for you."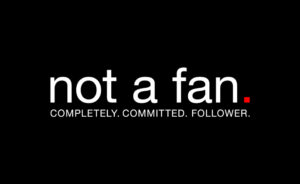 Wednesdays
Midweek Bible Study at 7:00 p.m.
Join us for our current Ray Vander Laan series "Death and Resurrection of the Messiah"
Vander Laan illustrates how Jesus' call to follow him turned the world upside down, and learn how confronting evil can be loudly proclaiming the name of Jesus or quietly caring for someone in need.
Filmed on location in Israel, That the World May Know is a unique video series that brings God's Word to life with astounding relevance. By weaving together the Bible's fascinating historical, cultural, religious, and geographical contexts, teacher and historian Ray Vander Laan reveals unique insights into the Scriptures' significance for modern believers.
July 9th-12th 2020
Women's Retreat 2020
"Breaking up the Fallow Ground"
The
ladies are going to run away to the hills of Willow Creek and stay

along

the Trinity River to our favorite resort, Escot Farms.
Registration forms available!
Contact Deanna with questions.
July 31st 2020
Family Camp
Our Family Camp at Blue Slide Camp will be July 31st-August 4th. Contact Pastor Mark or Deanna for more information or to register.
August 1st 2020
Men's Breakfast at 8:30am
This monthly meal is complimentary! Men of all ages are invited to meet in the fellowship hall for a time of prayer and a brief devotion over biscuits & gravy and more.